Just in time for the holidays, i am going to try to spotlight a few handmade crafters/artist on my blog and encourage you all to check them out.

Artist Feature: Se
ven Feathers Tribe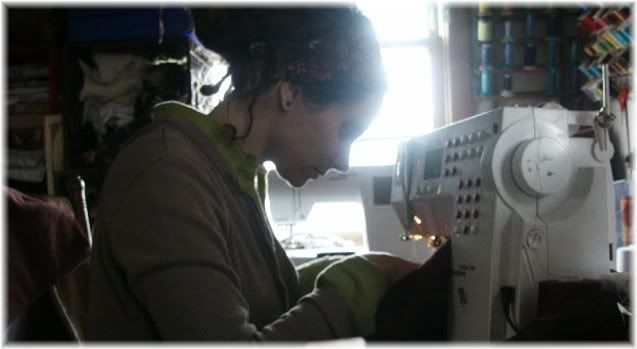 i admit, i have been a huge fan of Cre's work for many, many years. Back in the day, she made gorgeous patchwork clothing with the most intricate and beautiful appliques and her business was known as Oceantribes. Although she still sews some clothing items and amazing applique work (check out her pixie pockets on etsy!!!) , her focus has changed a bit as she and her family have grown and evolved over the years. Cre is a work at home mama to 5!
In the last couple of years, Cre's focus has moved toward making eco-friendly children's toys. It has been fun to see the amazing things she can do with felt!! She uses Eco-Fi felt (also known as Ecospun) for her handcrafted plush toys/foods. It is made from 100% recycled post-consumer plastic bottles and is compliant with the Consumer Product Safety Act, making it a great, eco friendly choice for our children.
If you visit her
etsy shop
, you'll find it packed full of lovely felt playfoods, imaginative masks and felt crowns for dress up play, market bags and more! She makes an amazing selection of play foods!! My favorites are the tea sets, asparagus and the bags of pasta. Her felt masks are so creative and original, she has a nice variety of fairy masks, gorgeous owls (my favorite), and lots of other animals.
Please consider purchasing handmade gifts this year. Show some support to this fabulous mama who creates these amazing handmade toys so that she can stay home with her children.
How to connect with Seven Feather Tribe:
Head over to Facebook and become a fan of
Seven Feathers Tribe.
You can also check out their Website for more information and to see more examples of Cre's beautiful work. :
Seven F
eathers Tribe
http://www.seven-feathers.com/
i hope you enjoy these artist features, i plan to be featuring a new artist/crafter each week up until Yule. That's my hopes anyway, life often gets in the way of what i'm planning... but i would really like to spotlight a few folks who's work i really love.